Profile

May Contain Bees
"You can't pet bees. They misunderstand."
Free Account
Created on 2017-01-02 20:27:37 (#2706419), last updated 2017-01-02 (37 weeks ago)
14,371 comments received, 1 comment posted
1,890 Journal Entries, 122 Tags, 0 Memories, 6 Icons

About

Mini Bio
Reinventing Spinsterhood
"I was never beautiful...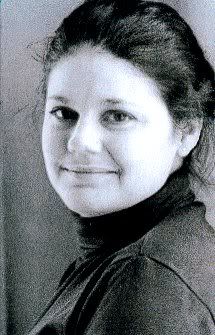 But I had that reputation thirty years ago."Elizabeth I, 1533 - 1603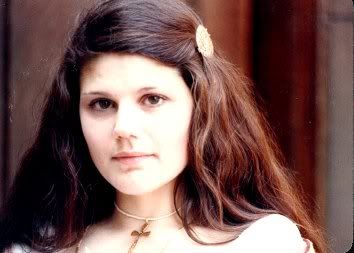 Wannabe homemaker and artiste currently disguised as and passing for a professional woman (specifically, a litigation paralegal). Also, trying to save the world, one cat at a time. Are you here by accident, or on purpose? I have some friends that overlap, but a lot who don't, so if half of this doesn't make sense to you, join the club. This is the place where I say what's not expected of me, or what may be incongruent with my public face. Or not. See what a dolt I really can be.
Want to make me happy?
Buy me something
. Or laugh at my taste in books. Seriously, though, buy me something. I could use a little cheering up.
Likes: See interests, infra.
Dislikes: Plenty. Just ask.
===============
pseudomonasme scripsit anno 2005
Tudors are scary, head-chopping love.
It affects everyone
still fighting it...
...even though i may hide my scars
*don't keep silent*
My Library
at
LibraryThing
You Are a Lavender Rose


You represent love at first sight and enchantment.



Your vibe: intense and intriguing



Falling in love with you is: deep and meaningful


Connect
16th century
,
19th century art
,
abnormal psychology
,
abortion rights
,
absolutely fabulous
, abuse of charity,
alcega
,
an tir
,
ancient roman history
,
andalusian horses
,
antiques
,
ascf
, attack laurels,
authenticity
,
bad garb
,
bad weather
,
beatrix potter
,
bees
,
being gorgeous
,
birth control
,
blackwork
,
blackwork embroidery
, bonnet fiction,
boring pretentious costume drama
,
cats
,
cemeteries
,
charlotte bronte
, cheesy advice columns,
childfree
, childfree issues,
china painting
,
chris noth
,
clothes
,
cold weather
, connemaras,
costume design
,
costume research
,
costuming
,
cottages
, cute cops,
depression
, dime stores,
drama-free
,
early music
,
elizabeth i
,
elizabethan costuming
,
elizabethan history
,
embroidery
,
erotica
,
fabric
,
fabric shopping
,
flylady
,
foamy the squirrel
,
foxhunting
,
full moons
, fussy housekeeping,
ghost stories
, ginger tabbies, golden snip award,
hand sewing
, hating thomas kinkade,
haunted houses
,
historic costuming
,
historical clothing
,
historical costumes
,
historical costuming
,
historical recreation
,
historical reenactment
,
history
,
homekeeping
,
horsemanship
,
household management
,
jane grey
,
janet arnold
,
kittens
,
lady jane grey
, lady tudor glitz,
latin
,
law
, legal research,
linen
,
lipizzans
,
living history
,
makeup
,
martha stewart
,
medieval
,
medieval reenactment
,
medieval women
,
monty python
,
mount washington
,
multiple cats
,
n/a
, narrative paintings,
needlework
, never having kids,
nonfiction
,
not having enough bookcases
,
old english roses
, old horse books,
pansies
,
parenthetical statements
,
pattern drafting
,
plain dress
,
portraits
,
pre-raphaelites
,
pro-choice
,
reenactment
,
renaissance
,
renaissance music
,
riding
, riding to hounds,
road trips
,
sarcasm
,
sca
,
sewing
,
sidesaddle
, smart and attractive men,
smut
,
society for creative anachronism
,
solitude
,
south park
,
spanish court gowns
,
stormy nights
,
tack
,
textiles
,
the brontës
,
thunderstorms
, traditional siamese cats,
trainwrecks
,
true crime
,
tubal ligation
,
tudor
,
tudor costume
,
tudor costuming
,
tudor england
,
tudor history
,
victorian porn
, vintage cosmetics, vintage homemaking skills,
vintage linens
,
violets
,
wardrobe
,
welsh cobs
,
writing

People
[View Entries]

[livejournal.com]
16thc-lady
,
7ofclubs
,
a-pinkmonkey
,
adastone
,
aelianora
,
aesa
,
alinore
,
animaltalker
,
annisozias
,
antoniseb
,
arwen-lioncourt
,
attack-laurel
,
audragoren
,
auronsgirl
,
ayeshadream
,
bast2
,
bear
,
beatonna
,
beatriz-aluares
,
blaze2242
,
blkhrse
,
bookfairy
,
bronxelf-ag001
,
bumblebee2006
,
burgundyrose11
,
bwliadain
,
cabenson
,
candragon
,
cassatt-2
,
cavefelem
,
cavyherder
,
cbellfleur
,
chamisa
,
chiarafrancesca
,
chickenfeet2003
,
cileansdreams
,
ciorstan
,
ciorstansdress
,
ciroccoj
,
clairebearkl
,
clockworktomato
,
colz85
,
conejodanz
,
corbaegirl
,
countess-e
,
courtierka
,
crankycatlady
,
cristabelyyc
,
culturevulture7
,
cvirtue
,
daf9
,
dafne-fraser
,
dame-eleanor
,
damedini
,
damekaris
,
dameroseline
,
danabren
,
dance-gal
,
dear-crisis
,
desar
,
diana-hawthorne
,
disappearing-mo
,
ditaykan
,
dona-violante
,
drankthetea
,
dyfferent
,
eacole72
,
egonbrauer
,
elasait
,
elfie-chan
,
elfreda
,
elizabethnmafia
,
ellettra
,
eowyna
,
equani-tsula
,
estela-dufrayse
,
etaine-pommier
,
exstock
,
fabricdragon
,
fanfictionaxis
,
farmleaf
,
fearciuil
,
fearga
,
ferriludant
,
fiona64
,
fitchwitch
,
fittzwm
,
fjorlief
,
florentinescot
,
florida-belle
,
flummoxicated
,
folo1
,
fountainoffilth
,
francesca-tessa
,
galestorm
,
galingale
,
gargoyal3
,
geneticallydead
,
girlingoldboots
,
grian-ruadh
,
gutterboylive
,
hakerh
,
hardsuit
,
heatermcca
,
hinkie
,
historicfashion
,
horsearcher
,
isabelladangelo
,
islenskr
,
issendai
,
jenthompson
,
jeru
,
jessebee
,
jessewave
,
jillwheezul
,
jljonsn
,
julifox
,
jupiterorbit
,
just-marci
,
kaelisinger
,
kass-rants
,
katanubis
,
katexxxxxx
,
korwyn
,
koshka-the-cat
,
krazyfiberkat
,
kseniia-antir
,
kumquatwriter
,
kushiels-lady
,
lady-anne-clare
,
lady-curmudgeon
,
lady-guenievre
,
ladyaubergine
,
ladydragonfly
,
ladyjanegreyref
,
ladymathea
,
ladyprivy
,
laroberouge
,
leaper182
,
little-foxy
,
lizapalooza
,
lorihalia
,
lurath
,
lynnarra
,
madwomansattic
,
maedb
,
maeva00
,
manosgirl64
,
mare-in-flames
,
margorose
,
marymont
,
marymontsews
,
max-boma
,
meezergal
,
melody-rossiter
,
mentalhygiene
,
mightymezzo73
,
minnesota-anne
,
modehistorique
,
monkeybung
,
monkeyjunk
,
morgandonner
,
morganor
,
morrghan92
,
mr-nice-gaius
,
mrq-laurellen
,
ms-daisy-cutter
,
ms-xeno
,
mschilepepper
,
msmcfeeley
,
msmcknittington
,
my-cat-tim
,
myladyswardrobe
,
naamah-darling
,
nadezhda13
,
naergilien
,
ninja-kat
,
noelegy
,
nokidsdammit
,
northwestmagpie
,
notadiamond
,
officerjudy
,
ornerie
,
otherwind
,
pandorasbox
,
parlor-games
,
peacockdress
,
peronel
,
peteyfrogboy
,
prairie-aspen
,
raising-caine
,
randibeeman
,
ravena-kade
,
ravnsdaughter
,
rectangularcat
,
reginaromsey
,
rev-thumper
,
rozebud
,
rufinia
,
sacredchao
,
sammurphy
,
sarahbellem
,
seamstrix
,
sfw-dc
,
shadowdryad
,
she-of-emeralds
,
silar31
,
simokon
,
sister-michael
,
sitpadeshu
,
slcronin
,
slysidonia
,
snarkhunter
,
soldiergrrrl
,
sorchekyrkby
,
sparowe
,
splagxna
,
sstormwatch
,
starlightmasque
,
stitchinthyme
,
sunfell
,
systemgoddess
,
the-13th-muse
,
the-thread-lady
,
theholyinnocent
,
thwak
,
tiredcurmudgeon
,
trulinor
,
tudorlady
,
turimel
,
varro
,
viking-food-guy
,
virginiadear
,
waterdawg
,
woffproff
,
woodsholme
,
wortschmiedin
,
xanath
,
ya-inga
carmenbeaudry
,
daf9
,
danabren
,
fjorlief
,
girlingoldboots
,
gwen_the_potter
,
katanubis
,
lmsnape
,
northwestmagpie
,
saf
,
starlightmasque
,
whitehart_designs

Communities
[View entries]

Feeds
[View Entries]

Subscriptions (0)

Linking
To link to this user, copy this code:
On Dreamwidth:
Elsewhere: